Pokédex: #254 Sceptile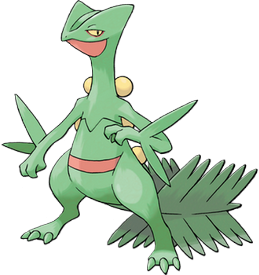 Pokédex:
"Sceptile, the Forest Pokémon. The seeds growing on Sceptile's back are brimming with vitamins that can revitalize trees. Sceptiles are usually peaceful creatures which take care of trees in woods and jungles, but they're also cunning. They attack their enemies from above or from the side to use the suprise effect. Their arms are equipped with razor-sharp leaves, and they move lightly through tree branches in order to attack their enemies."
Type:
Grass (Mega Grass / Dragon)
Gender:
87.5% Male / 12.5% Female
Height:
1.7m / 5'07" (Mega 1.9 m / 6'03")
Weight:
52.2 kg / 115.1 lbs. (Mega 55.2 kg / 121.7 lbs)

Treecko

Grovyle

Sceptile

Mega Sceptile
Evolves to
Grovyle
on Lv. 16
Evolves to
Sceptile
on Lv. 36
Evolves to
Mega Sceptile
by Sceptilite
Evolves back to
Sceptile
after battle

Treecko
(shiny)

Grovyle
(shiny)

Sceptile
(shiny)

Mega Sceptile
(shiny)
This is an inofficial fansite run by Ran. Sceptile, Pokémon and
all related content © Nintendo, GAME FREAK, Creatures & The Pokémon Company. No copyright infringement intented.